Jan Zemanek
photographer, musician and big dreamer
WHAT DO I DO
I don't feel as an artist, I'm more of a creator. I'm lucky to do what I love and I do my best every time. I believe this is the only way to move forward. I'm trying to do these things in a different way, but it's worth it, right? .. :)
PHOTOGRAPHY
Portraits, glamour photo, nudes, band promo, corporate portraits etc.
Photo workshops for begginers, about my glamour photos, editing photos,..
I shoot even weddings, family photos and some other usual occasions :)
VIDEO
Live videos from band shows
Videoclips
Live session videos (with Black Tone Music team)
Weddings/family/corporate videos
AUDIO
Recording and mixing of live concerts
Home studio recording
Also mix and mastering
CONTACT FORM
If there's anything I could do for you or you just want to ask me something, please contact me this way. Double check your e-mail address so I'll be able to answer you.
GLAMOUR AND PORTRAIT PHOTOGRAPHER
I love photo shooting. The way people's eyes speak to you through the pictures, it is something why I fell in love with it. I've been photographing for 9 years now. Currently I am using an old Nikon D700 digital SLR camera, a 50 mm single lens and natural light. I am quite happy with that :)
Mostly I shoot glamour, it is the style in which I can feel natural. I do not shoot only NUDE photos. However, these photoshoots I like the most..
BLACK TONE MUSIC
BTM is music live session show, which I dreamed up. I used to watch foreign bands playing live in various studios and places. The more I watched these videos, the more I loved them until it came to the moment I wanted to create new Youtube show. Even if we didn't have enough experience of filming or recording bands, we could represent the best new bands. Half a year later the first video was online and now we have about 19 episodes done and we enjoy it a lot – especially I do :)
What do I do in BLACK TONE MUSIC: Besides the fact that I dreamed up this live session, I am mainly a sound engineer here. In fact I do filming sometimes and directing offcourse.. in the post I am mixing the sound of recordings, editing video partly, the official website and social networks.
Website Black Tone Music: www.blacktonemusic.com
Youtube Black Tone Music: www.youtube.com/blacktonemusic
Facebook Black Tone Music: www.facebook.com/blacktonemusicshow
Instagram Black Tone Music: www.instagram.com/blacktonemusic
Soundcloud Black Tone Music: soundcloud.com/blacktonemusic
MUSIC CLUB SKLEPY
In summer 2016, almost exactly a year after we started Black Tone Music, I had already some experiences with sound engineering, I recieve an offer to sound engineer in small music club in Boskovice. Few months later we had an opportunity to take over the club completely and September 1st we did so. We have planned reconstruction for one month (optimistic, huh?). Luckily with great effort and thanks to all of our friends and comrades we managed to reopen "Sklepy" October 1.
Having our own music club, organizing concerts, interaction with bands and being a sound engineer for live shows, making program etc.. That was another part of my dreams, which I have now successfully achieved. It's very challenging – more than I have ever imagined, but it's absolutely divine. The only thing left is to teach young people in the area to go again to young band's shows, but I'm an optimist. We run the club with love and care and I hope it's gonna be successful. :)
WHAT DO I DO IN THE CLUB: I take care about the program, seek for new cool bands and then I communicate with them, but mainly I am front of house sound engineer.
Web Sklepy: http://klubsklepy.cz/
Facebook Sklepy: https://www.facebook.com/KlubSklepy
Instagram Sklepy: https://www.instagram.com/klubsklepy
JACK DANIEL'S MUSICIAN FACTORY
Like Sklepy, our music club, the Musician Factory in my life appeared probably due to Black Tone Music. After the first couple of episodes came out in the spring of 2016, Majkláč (founder Bandzone.cz) emailed me that he would like to film entertainment internet educational program for musicians, and he liked what we were doing and asked if we are able to help him with this new thing. I like the idea very much! I'd like to be there just sitting and listening, because it's that amazing! Majkláč is capacity, great and positive person with whom I share a lot of points of view and at the same time it is someone from whom I can learn a lot and be inspired + with his capabilities it was clear, from the beginning, that we will have the opportunity to meet many interesting people from music industry. Dreamy.
What do I do in MUSICIAN IN FACTORY: Technical side of things, the team directing, taking care of the sound. In the post(?) then I mix the sound completely and cut video filmed.. :)
Youtube Musician Factory: www.youtube.com/musicianfa….
YOUTUBER
Video recording is something I've been thinking about for a long time. Particularly the moment in my life, when besides photography and playing drums with my band appeared youtube show BTM and music club Sklepy, I got a feeling that's a lot to tell about and I wanted to record it all!
My life in brief
Connector.

1987

I was born in 1987 and since then I live in Letovice, not far from Brno.

Connector.

My brother

At the end of 1995, my brother Jakub was born and I was immediately clear that this is my life partner.

Connector.

Drums

Freshman in high school, around 2002, and I'm starting play drums and discovering how beautiful live music is.

Connector.

Photographer

After high school, looking for work, I feel that I am not able work for someone.. Secretly picking savings and buying new camera. I am a photographer!

Connector.

Bands

During this time, I am going through different kinds of bands and I meet heaps of great musicians.

Connector.

Barča, the dog

Summer 2014 and this little dog is in my apartment. She's my biggest love and she's absolutely greatest teacher ever as I learned so many things from her that I would never come alone ..

Connector.

Black Tone Music

During 2015, I invented the musical "live session" a show about young bands, I put together a great group of people and now we have recorded almost 20 bands!

Connector.

Music Club Sklepy

Music Club in Boskovice under the direction of Black Tone Music team. We opened it in October 2016

Connector.

Youtuber

I got a feeling that it is so much going on around me, it would be a shame to just let it all flow!

Connector.

2017?

I've had so much planned, but if there's something I really want .. That would be buying a Chevy Van G20, move in and go where the wind just blows me :)
WOW! YOU SCROLLED TO HERE!
Not only this website, but everything I do in my life, I try to do it in a way to make happy not only myself but also the people around me. I love it when I can do something great for you to please you .. whether it would be photos, video, audio, or anything else.
I hate the system. I'm tired of money, I'm tired of hypocrisy, playing on the fact that someone means more than someone else. Everything I do I try to do as good as I can and I think that is the only way to make life around me better.
Whether you just watch me, or you're the one from whom I can do something beautifull, it is great you're here reading this even if it's horribly translated. Much respect to you. Thank you! ❤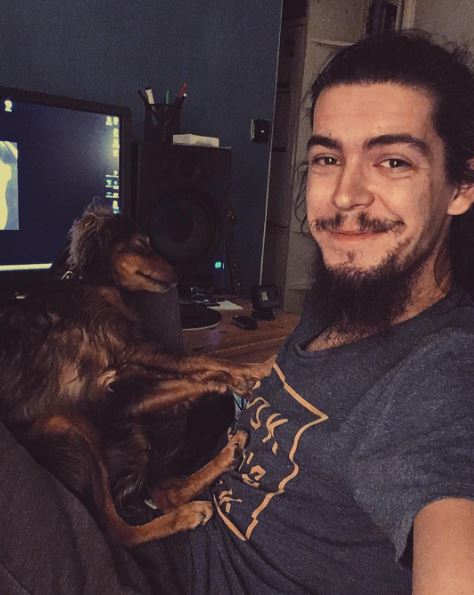 ---
You like what I do? Subscribe to my newsletter. :)
That untranslated button labeled "Chci to" means "I want it".